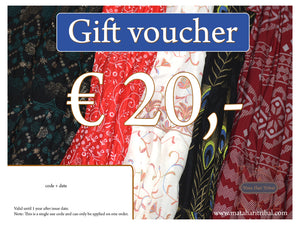 Mata Hari Tribal
Gift Voucher €20,- printed
Regular price
€21,00
€0,00
Unit price
per
Have a bellydancer in your life and are you unsure what to gift her for a birthday, christmas or other occasion? Want to give your teacher, coach or group member a gift but are you sure (s)he already has everything? Don't know what tot ask for your birthday, Christmas etc? We now have a gift voucher to cure that!
The gift voucher gives you a one-time €20,- discount (on one order) for one year after the issue date.
This voucher is delivered as a real card; giving you the option to give a real gift to your dancer friend, collegue, group mate or family member.
Shipping within NL: €2,99
Shipping in the EU: €4,99
- - > >Nederlands< < - -
Is er een buikdanser(es) in je leven en weet je niet wat je cadeau wil geven met verjaardagen, kerst of op andere gelegenheden? Wil je je docent, coach of groepsgenoot een kadootje geven maar weet je zeker dat diegene alles al heeft? Weet je niet wat je voor je eigen verjaardag moet vragen? Nu hebben we een voucher om dat op te lossen!
Het voucher geeft je eenmalig €20,- korting op 1 bestelling; geldig voor 1 jaar na uitgifte datum.
Deze voucher word als echte bon geleverd; zo heb jij de optie om een echt cadeau te geven aan je dansende vriend, collega, groepsgenoot of familielid.
€ 2,99 verzend kosten binnen Nederland.
€ 4,99 europa
---
Share this Product